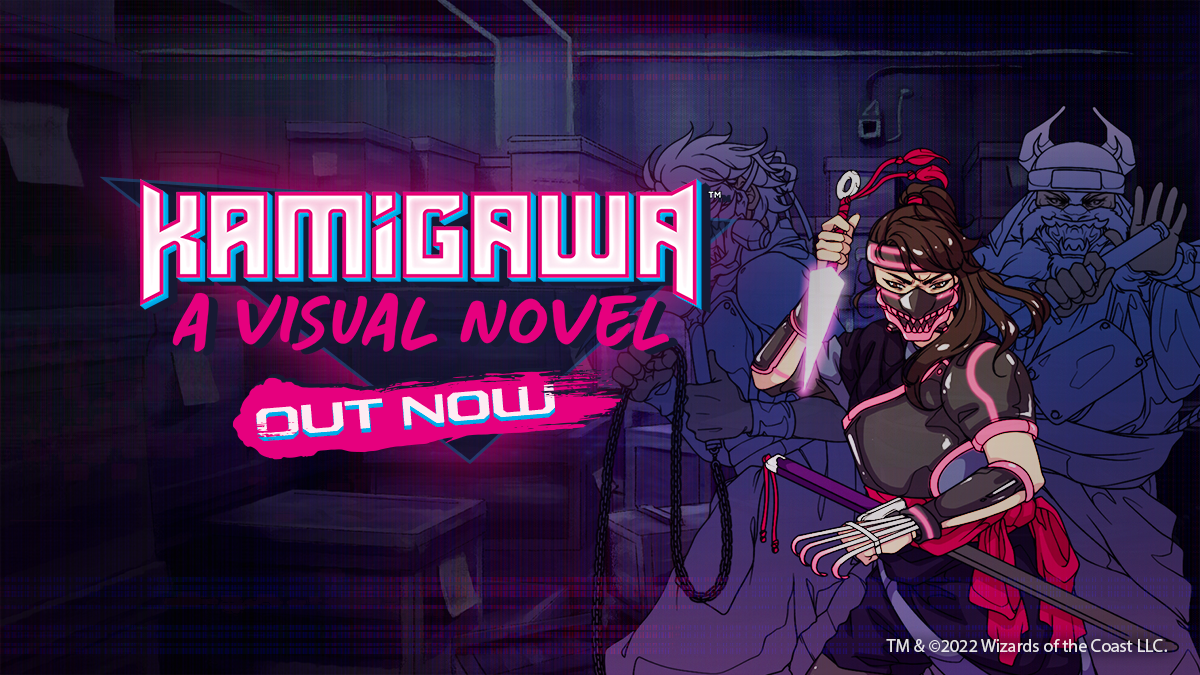 Kamigawa: A Visual Novel
A downloadable game for Windows and macOS

Experience the world of Kamigawa: Neon Dynasty, the upcoming Magic: The Gathering set.
For the very first time, Kamigawa can be explored through an interactive visual novel.
You play as an Imperial Samurai entrusted with an important mission.
Travel with a full party of companions, or just your trusted Imperial comrade. Discover the powers of your bonded kami, which change and evolve depending on your decisions. Journey through the Sokenzan-shi and the eternally dark streets of Towashi, meeting the inhabitants of Kamigawa.
Some may say the fate of the world rests on your shoulders.
WITH CAMEOS FROM KERO KERO BONITO, SWEET ANITA, SHURJOKA, THE ASIAN AVENGER AND CHOCOLATEKIERAN

– Characters representing the vibrant population of Kamigawa
Meet Imperial Samurai Touma, Rei from Hisaku Uprisers and Asuga of the Order of Hanami. Visit the nezumi Itachi in his noodle bar, or track the mysterious moonfolk in Towashi.
– Multiple locations within the world of Kamigawa for you to explore
Investigate a merge in Sokenzan-shi and busy streets and establishments of Towashi. No one knows where you may end up next...
– A story where your choices matter
Your choices influence not only your companions but also your bonded kami. Diplomacy or intimidation, sympathy or hostility – it's all up to you.
– Side quests with cameos
As you travel through Kamigawa, you may bump into some familiar faces. Characters based on the band Kero Kero Bonito, content creators Sweet Anita, Shurjoka, The Asian Avenger and ChocolateKieran are all in the game for you to find.

MAC & WINDOWS
In English, Spanish, French, Italian and German
Download
Install instructions
WINDOWS
Extract the ZIP file and double click on Kamigawa.exe.
MAC
Extract the ZIP file and double click on Kamigawa.app.
If you receive a prompt stopping you from opening the file, right-click on the app and click "Open". A new prompt will pop up, asking if you're sure you want to open the file – confirm by clicking on the "Open" button.
In case you have any issues with opening the file, try accessing the game through the Itch app.